Guangzhou, China, Aug. 28, 2020 – Flexible, fast, efficient, easy… —the smart home solution based on the interconnection concept greatly lights up the family life. PHNIX's step on the road of optimizing the user experience is always keeping forward. To create a better smart home life for users, PHNIX updates its smart water heater APP, Hitemp. As a considerate assistant for the smart home, the Hitemp APP, relying on the deeply optimized WIFI/4G-DTU connection technology, makes them find that connection can be so helpful and charming even in the common domestic sanitary hot water supply.
User — Water Heater Connection: Your On-Call Sanitary Hot Water Supplying Steward
The switch timers help users plan their life. The remote switch and temperature control functions anywhere and anytime provide more flexibility in case of emergencies. More than this, the notable point about Hitemp APP is the clear visualization of the current and historical running data collected by different accurate sensors inside the PHNIX water heater. Hitemp APP is just like a steward, who always tries his best to support your daily life, and report all he knows to you.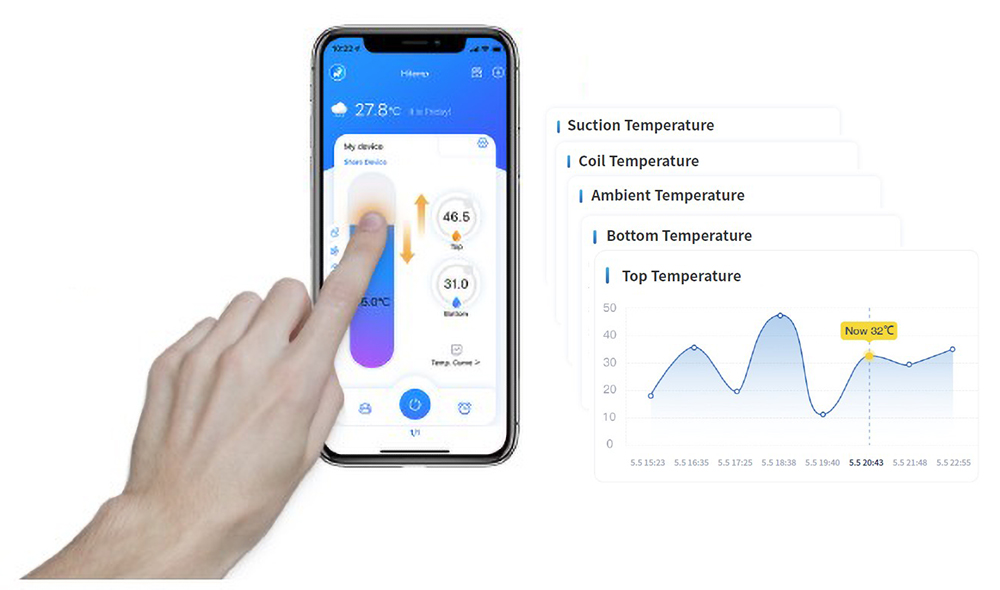 The picture shows the temperature control and the history temperature curves of the Hitemp APP.
User — the Service Provider Connection: A Quick Messenger
One of the goals of smart home tech is to save people's time from the trivia. Hitemp APP provides a one-click reporting button for the user to report the fault directly. As long as the user report the fault on the APP, the background system will present the information of the heater to the local service provider; thus, the users don't need to spend time on the phone call or email communication anymore.
User — User Connection: A Common Platform for Sharing and Management
As long as one family member has his mobile device bound with PHNIX heater on Hitemp APP, other family members no need to repeat the rebind steps. Through the family share function, users can share the heaters of their accounts with the family member. Therefore, all the family members can know about the heater's settings at the same time and manage all the heaters together. Even if you are not at home, you still can help your parents and children control the heaters.
As the leading heat pump manufacturer in China, PHNIX is an international enterprise specializing in the R&D and production of heat pumps and energy-saving solutions. Almost 50% of PHNIX products are exported to Europe, North America, and other overseas markets. To learn more about PHNIX and its products, please visit www.phnix-e.com.