COP 9.5
Superior Efficiency
With COP up to 9.5, it can deliver reliable spa heating with the lowest running costs, whilst taking care of the environment.
38dB(A)
Ultimate Luxury Spa Experience
While with silent mode, it produces noise down to 38 dB(A) at 1 meter. It allows users to luxuriate in spa without disturbing noise.
Boost Mode
Quick access to Boost mode from display, one button to be 15% more heating capacity.
RS485 for SPA Centralize Control
All range of PHNIX spa heat pump are applied with RS485 connection port, which allows the SPA control to be connected in.
Full lnverter Technology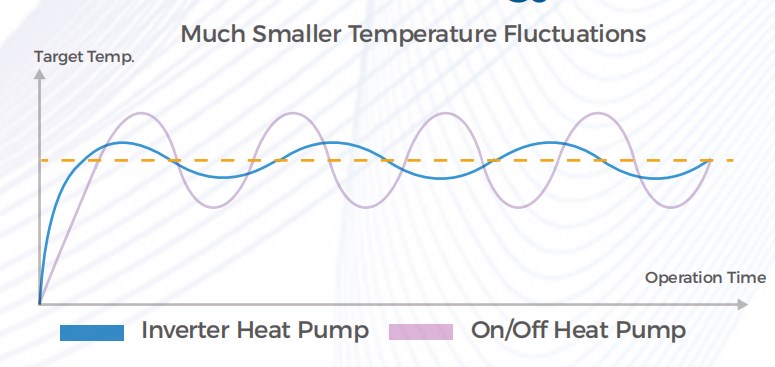 9.5 Times Energy Saving
This heat pump efficiency is 9.5 times higher compare to electrical heater.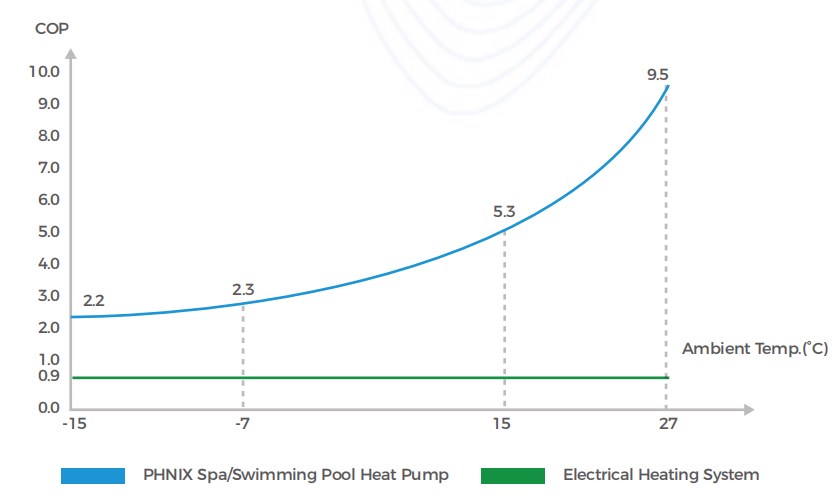 EVI Technology
-25℃~43℃ Operation
EVI (Enhanced Vapor Injection) technology ensures heat pumps operate safely and stably at low ambient temperature -25℃.

Heating Capacity 15%+
When the spa running at a lower ambient temperature which lower than 7℃,with EVI technology, the spa heat pump can have a 15% heating capacity increase compare to SPA-EXPERT.

Maintain High COP in Low Temp.
PHNIX SPA-EVI can keep a higher COP even in low ambient temp. working condition.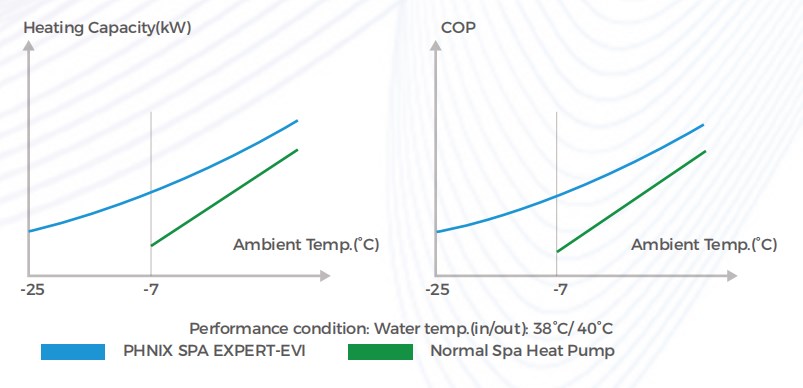 Frosting Protection
· Auto Titanium Exchanger Protection
Equipped with auto detection and auto titanium heat exchanger heating belt, will greatly prevent it been frozen at winter time.
· Chassis Heating Belt
Through automatic AT detection and control of the machine, will prevent the chassis from freezing by drainage water.

Extra Heat Exchanger
The plate heat exchanger can ensure the refregerant compeletely evaporate at low ambient temp, thereby improving heat transfer efficiency

PHNIX Smart Home Energy Solution
PHNIX's SPA unit can seamlessly utilize electricity generated by photovoltaic systems. When combined with PHNIX's self-developed EMS (Energy Management System), these units employ intelligent device management to maximize energy savings and deliver a superior user experience.