Guangzhou, China, May. 12, 2021 –Pursuing the latest and most advanced heat pump technology while leading the industry ahead is PHNIX everlasting goal and motive. To put this ideas into action, in the early March, PHNIX symbolizes its newest technology for swimming pool heat pump business with a new identification—i-Aquatech. Closely coming next, PHNIX brought out a new series of swimming pool heat pump named FLEX, which is an innovation perfectly illustrates the core idea of i-Aquatech with integrating the most cutting-edge designs and all the superior features of a swimming pool heat pump.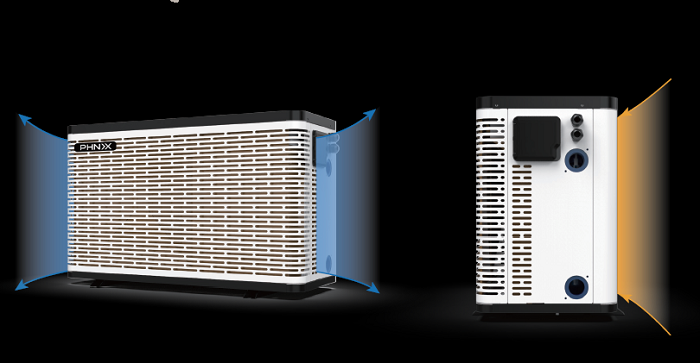 PATENT UNIQUE AIRFLOW DESIGN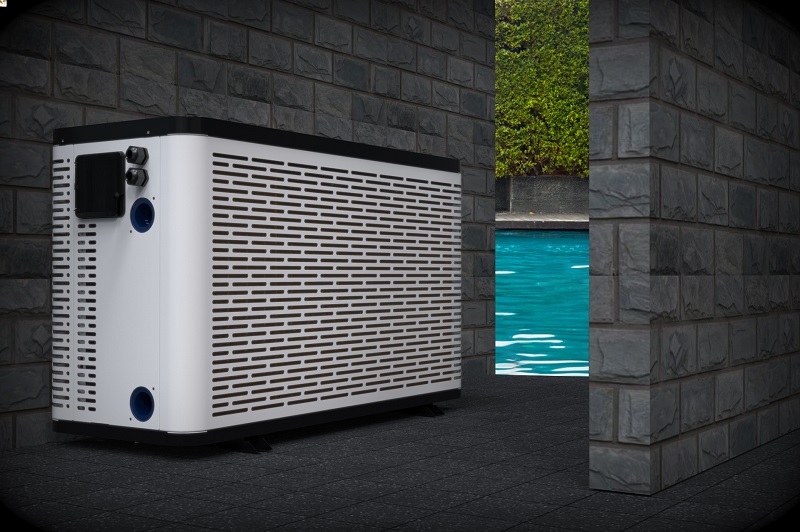 LESS THAN 100MM ISTANCE TO THE WALL INSTALLATION
The first shining point of FLEX swimming pool heat pump is its unique airflow design. The airflow design is a new design latest developed by PHNIX R&D team and has received patent certificates from China CNIPA with 10 year duration since 3rd, March, 2021. In this optimized design, the air can blow in from both sides and blow out from the front side, which can raise the heat exchange efficiency and furtherly boost the COP to a higher level. Moreover, to maximize its flexibility in installation, the place of water inlet and outlet are redesigned to be on the left side of the cabinet, which can help to largely shorten the distance between the unit and the wall or any corner to less than 100mm, making the unit to be very cozy in the garden.
The feature of super low noise operation is another highlight of FLEX series swimming pool heat pump. Adopted the mature full inverter technology and noise reduction internal structure design, FLEX makes just 48dB(A) (sound pressure at 1m) while running at 100% capacity and emit the lowest noise just 30 dB(A) (sound pressure at 1m) when it is under ECO mode according to proven data on CVC report, which can really create a quiet swimming environment for users.
"Thanks to this smart idea from our Australian partner and our mutual efforts to realize this idea on our i-ExpertLine FLEX, now we are ready to release this innovative inverter product to our global customers, we believe this swimming pool heat pump is going to be a hit in the market." Said Howard Zhang, vice sales director of PHNIX overseas business.
About i-ExpertLine FLEX
Patent Double-side Airflow Outlet
The unit uses PHNIX own patent double-side airflow cabinet ( Air blow in from both sides and blow out from front side) which is highly efficient in heat exchange and makes it very flexible in installation.
Low Noise Running
A fully enclosed cabinet is specially designed for the compressor so that the running noise can be kept inside and the noise of the whole unit can maintain as low as 48dB(A) (sound pressure at 1m) at full capacity.
COP Up To 16
With mature inverter technology combined with the adoption of Mitsubishi compressor, the unit can maintain high COP at 16.
Modern Controller
The unit utilizes a smart big button and touch combined display which is incomparably easy to use. Moreover, the display can be installed simply by plugging in the machine and removes easily when maintenance and replacement.
Smart APP Control
Via connection by Bluetooth, Wi-Fi and 4G, your can take full control of your swimming pool heat pump from anywhere in your home or office with a single app on your smartphone.