Mature Full Inverter Technology
The application of an improved compressor and inverter technology synergies is a crucial element for the unit to be a top performer which can raise the energy efficiency and provide homeowners with greater cost-savings. With full inverter technology, the COP of i-ExpertLine Mix is up to 16.0. Under ambient condition of -7°C to 43°C, the unit can run efficiently for both heating and cooling.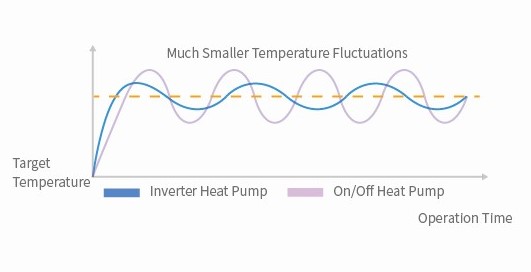 Soft Starting
PHNIX i-ForceLine-Mix achieves a completely soft switch over from 0A to 28A (max) intensity during the start-up phase, whereas a normal ON/OFF heat pump starts with more than three times higher current intensity, which will have a strong impact on the household electricity system.
Low Temperature Operation
Working with high efficiency and stability, PHNIX i-ForceLine-Mix supports large operation ambient range from -7°C to 43°C, which enables the users to enjoy four-season swimming fun without disturbed by climate change.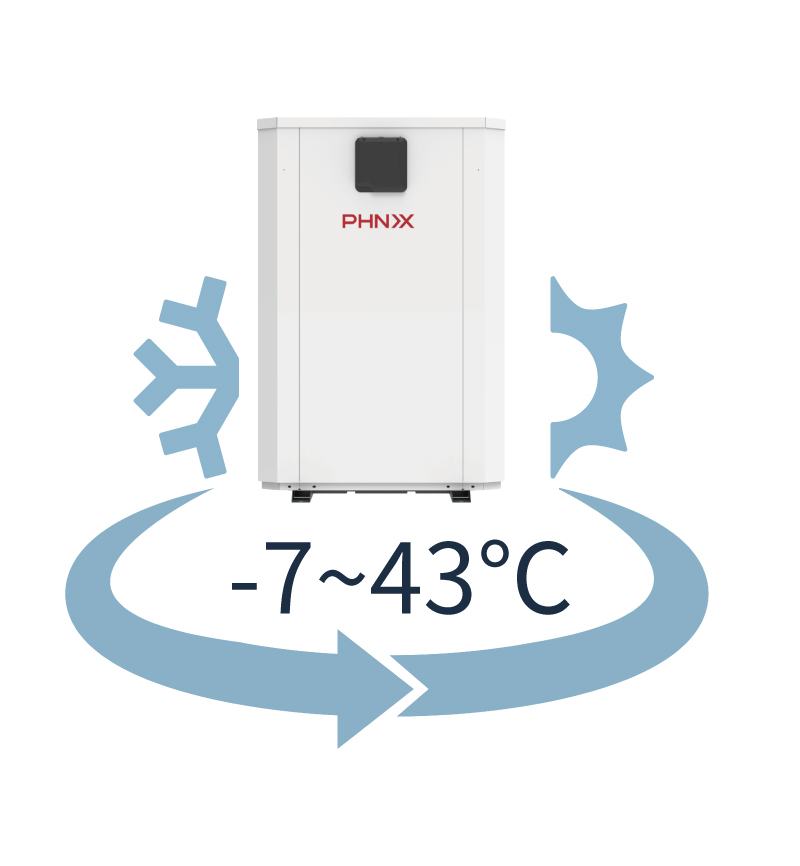 Screw-free ABS Material/Sheet Metal Cabinet
To adapt to different environment, the unit is available in two different types of material: ABS and sheet metal. With the highlights of strong corrosion-resistant, the ABS cabinet is an ideal option for seaside citizens and area with moist, rainy climate. While the sheet metal material cabinet boasts outstanding and complicated design which makes it very attractive in appearance.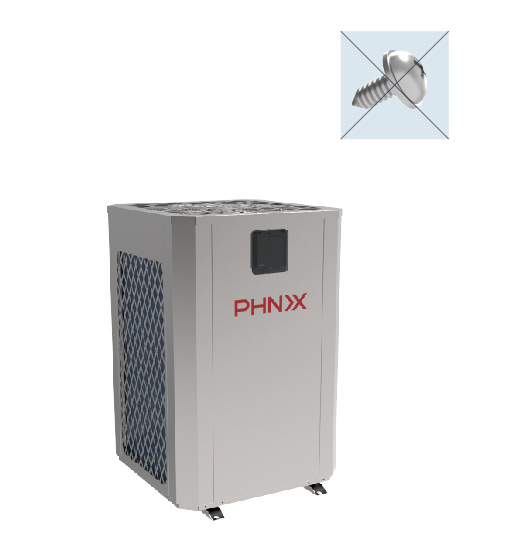 Flexible Installation
With innovative vertical exhaust design, i-ForceLine-Mix can be installed elegantly with any pool in tight space, which can be very flexible and easily blend with the users' pool designs.
Colorful Touch Screen Display
The controller of the PHNIX i-Force Line-Mix inverter pool heat pump is equipped with a 3.5 inch color touch display, which allows real-time temperature curve for extending a clear overview of the unit's running condition. Furthermore, the clear interface is very user friendly and eye-catching in design.

Smart App Remote Control
With a Wi-Fi and 4G connection, you can take full control of your swimming pool heat pump on your smartphone via an app. The app can be found in the App Store and Google Play.